By: Samantha Ruggiero '14 (CLAS)
This article is part of a series featuring some of this year's outstanding graduating students, nominated by their academic school or college or another University program in which they participated. Check for additional profiles of students in the Class of 2013 on UConn Today from now through Commencement.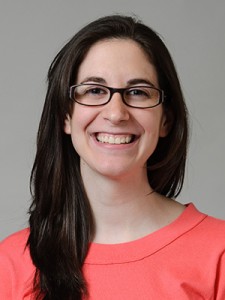 It is hard to imagine that award-winning non-fiction author Alyssa Palazzo, a senior English major and women's studies minor from Glastonbury, failed her English classes in middle school.
"I was a really avid reader, but my writing was horrible," says Palazzo. "But then in 8th grade my writing really picked up."
Since then, Palazzo has become involved in numerous creative writing projects, including working for UConn's Creative Writing Program, writing press releases, and coordinating events for writers visiting UConn's campus.
Sean Forbes, acting director of the Creative Writing Program and adjunct professor in the English Department, says Palazzo is a very hard worker.
"Alyssa is just really trying to leave her mark at UConn," says Forbes.
Aside from her work at the Creative Writing Program, Palazzo has won numerous honors, including the 2012 Aetna Creative Non-Fiction Award for a piece called "Leave-Taking," and again this year for a piece called "End Time." Palazzo also won the 2012 and 2013 Collins Literary Prize.
Palazzo's writing, including "Leave-Taking" and "End Time," is inspired by her desire to speak out against domestic violence.
"People just don't talk about sexual abuse and domestic violence," says Palazzo. "When you put a feminist twist on your work, you get criticized."
Palazzo got a taste of negative criticism from readers when The Hartford Courant published her short essay about violence against women in its young essayist column called "Fresh Talk" this February.
"I had one awful comment, but then I got eight emails from people saying how happy they were that I wrote about domestic violence," Palazzo says.
Apart from creating her own work, Palazzo also enjoys working with other authors as the editor-in-chief of UConn's award-winning literary magazine, the Long River Review. The Long River Review, in conjunction with UConn's Design Center, publishes a collection of UConn students' fiction, non-fiction, poetry, original translations, and artwork.
"We really try to publish work that makes us physically react," says Palazzo. "We want pieces that evoke an emotion."
Darcie Dennigan, assistant professor-in-residence in the English Department and faculty advisor for the Long River Review, says Palazzo has an ambitious vision for the magazine.