This article is part of a series featuring some of this year's outstanding graduating students, nominated by their academic school or college or another University program in which they participated. Check for additional profiles of students in the Class of 2013 on UConn Today from now through Commencement.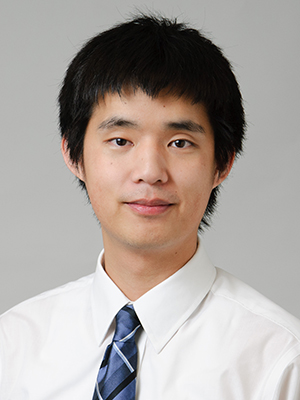 In the cold winter weather, it's easy to spot Addison Zhao. The senior psychology major from Baltic, Conn., sports an earflap hat with moose antlers protruding from each side.
"It makes people smile," Zhao says.
Zhao's outgoing personality and his interest in psychology have made him stand out as a dedicated supplemental instruction leader for psychology professor David Miller's general psychology course.
The supplemental lessons offer an opportunity for students to reinforce the key points from a lecture class in a smaller, informal environment. Zhao has been constructing lesson plans and writing quizzes and practice exams for students since the beginning of the Fall 2012 semester.
"Addison cares a lot about other students learning the material," says Miller, associate head of the psychology department and Zhao's academic advisor. "He goes beyond the call of duty to make sure that's happening."
Zhao says he finds provoking questions and encouraging discussions contribute to meaningful note-taking skills.
"I feel that students really like structure," he says. "I've made my classes more straightforward by writing on the board, giving quizzes, and going over the quizzes with a question-and-answer session at the end."
Miller says Zhao's lessons have proven successful, because students attending his supplemental lessons are scoring higher than average on exams.
"He is good at being conscientious, and wants to make sure the students are learning," says Miller. "He isn't just going through the motions, he's doing what's effective."
In addition to his work as a supplemental leader, Zhao has been a research assistant since his second semester at UConn. He's currently collecting data for his own research on what makes online dating profiles attractive, which he will write up for his senior Honors thesis. Although he can't share his results yet, he is excited to see the results unfold.
"I like seeing the participants interact," says Zhao. "I love seeing participants, who are usually complete strangers, actually react to the experiment."
In his senior year of high school, Zhao thought becoming an engineer would be more practical and fiscally responsible.