By: Sheila Foran
This is the first in a series featuring some of this year's outstanding graduating students, nominated by their academic school or college or another University program in which they participated. Additional profiles of students in the Class of 2013 will be published on UConn Today from now through Commencement.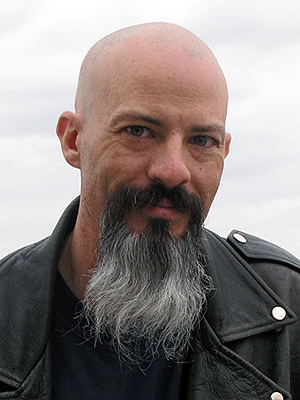 Russell Lycan figured that starting his college career at UConn's Avery Point Campus would be a piece of cake. Thanks to the Navy, he had spent 13 years traveling the world. He'd once been stuck in the mud underneath a submarine in his role as a diver and managed to escape that predicament. He'd navigated difficult situations in multiple foreign ports and on assorted oceans. The thought of attending school at a picturesque campus on the shores of Long Island Sound seemed idyllic.
Little did Lycan know, however, that his new roles as both full-time student and stay-at-home dad with an infant son would present challenges he'd never anticipated. But he's met those challenges successfully, and is now on his way to graduate school.
The classroom part of the transition wasn't that difficult. Hungry for knowledge and matured by his years in the Navy, Lycan was ready to focus on academics. What he wasn't as prepared for was a change in identity and the sense he had of how others perceived him.
"It used to be easy," he says. "I identified myself as a navy diver. And then – it seems like overnight – I went from being a hard charging Petty Officer First Class [a non-commissioned Naval officer] with a specific schedule and an often dangerous job to do, to being a father and a full time student. I was older than most all of my classmates, and I had responsibilities they didn't. At first, I hardly recognized myself; I couldn't identify with the new me."
A change of direction
But Lycan has never been afraid to take on a challenge.
When he was in high school in his native Fort Worth, Texas, Lycan had been an uninspired student. A stint in junior college didn't really change his attitude.
Realizing that he was his own worst enemy, he enlisted in the Navy in hopes of finding a sense of direction. He was first trained as a sonar technician and served on the USS Cape St. George out of Norfolk, Va. for six years. But his goal was to become a diver, and when his poor eyesight was surgically corrected by photorefractive keratectomy, courtesy of Navy physicians, he qualified for training as a diver. His initial assignment was the U.S. Submarine base in Groton, where he first heard about UConn's nearby Avery Point campus with its majors in maritime studies and marine sciences.
Lycan says his job as a diver included underwater repairs to submarines, security swims, explosive ordinance disposal assistance, mine hunting, salvage work, and a variety of other tasks performed under water and in the dark. Although he loved his naval career, responsibilities of a growing family and his own desire to take on new challenges prompted a move to Connecticut and his enrollment at Avery Point.
"At first I thought I would major in marine biology," he says, "but I've always loved history, literature, anthropology – the humanities in general – and by majoring in maritime studies with a minor in maritime archaeology, I found I could combine everything I was interested in."
His choice proved to be a good one. His advisor, Helen Rozwadowski, associate professor of history and coordinator of maritime studies, says, "Russell is by far one of the most interesting students we have had in our maritime studies program. He's produced some of the most astonishingly good scholarship of any student we have ever had. When we talk, it's like having a conversation with a junior faculty member. I know he's got a great future ahead of him because he's got the right combination of intellect and drive, and he won't settle for not achieving his goals."