By: Kenneth Best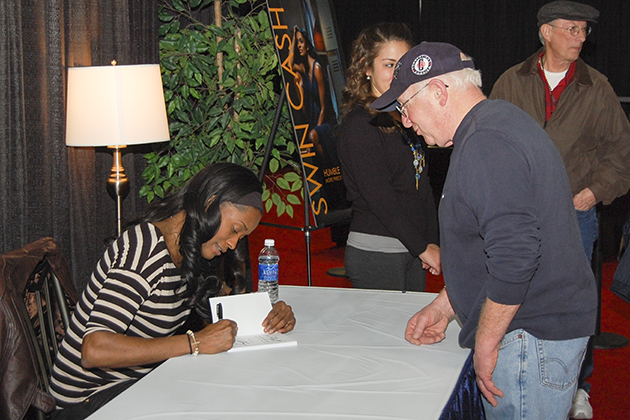 Ninety minutes before the Huskies' first game in the Big East Women's Basketball Tournament earlier this month, a line of fans stretched out from a meeting room just off the lobby of the XL Center in Hartford. Inside the room, Swin Cash '02 (CLAS) smiled broadly as she chatted with everyone, stood to have her photo taken when asked, and signed copies of her new book, Humble Journey: More Precious Than Gold (Empowering You Publishing).
"When I came [to Connecticut], I was a skinny, bowlegged-looking kid freshman year, and I was homesick. All these people would give me a hug," says Cash, an All-American at UConn, four-time WNBA All-Star, and two-time Olympic gold medalist. "That's why I don't take the fans for granted. You spend a couple of minutes with them; you give people a hug and appreciate them."
Cash also appreciates what she has been able to achieve during her lifetime so far, especially given the obstacles she had to overcome in order to return to competing at the highest level of professional basketball. Those obstacles included surviving cancer, which she reveals for the first time in the book.
After experiencing back problems in 2008, caused by a herniated disk, an MRI also revealed the presence of a cancerous tumor on one of her kidneys.
"We had physicals for the beginning of the season and it really just was the doctor reading the MRI, saying, what's this little thing over here?" Cash says. "It was a blessing from God. If my back was not bothering me, I would have had that tumor sitting there growing and manifesting. My kidneys were not bothering me."
At the time, Cash decided not to talk about her diagnosis. Only Detroit Shock head coach Bill Laimbeer and the team trainer knew about it, even as she was being criticized for her struggles on the basketball court. She says that having worked in the media – doing basketball commentary on ESPN and NBC – she understood what was happening, but she was not yet ready to speak about her illness.
"Now I think is the perfect time," she says. "There are a lot of eyes from kids and adults that are watching me. I felt like I owed it to them to tell my story so they could see the highs and lows, the perseverance, and hopefully, gain inspiration from it."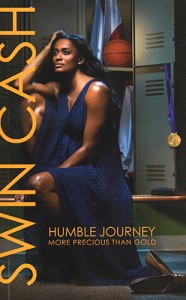 Humble Journey is both a narrative of Cash's life in recent years and an effort to describe how her Christian faith helped her to overcome the obstacles she faced both personally and professionally. While she does not write about it, Cash says publishing the book went against the advice of her business advisors.
"I had to fight for this project because I wanted it to be authentic," she says. "I didn't want to do a book with me partnered with [tennis star] Serena Williams or a soccer player. It took a while. I think this is very authentic, transparent. I feel it's going to help people. I don't think many athletes or celebrities put themselves out there like that. I wanted to be that person."
In the book, she describes how she set a goal of returning to be a member of the U.S. Olympic team in 2008 after winning a gold medal as part of the 2004 team. But with her injuries, she was not selected for the squad. Following surgery and with her back health improved, she targeted the 2012 London Games, when Huskies' head coach Geno Auriemma would lead the team. She describes going through the selection process for the 2012 team and being called into a hotel room in Prague to meet with Auriemma and Carol Callan, Women's National Team director for USA Basketball, to learn that she had made the team.
"I stood up and hugged them both," she writes. "I ran to my room and called my mom to tell her the good news. I was very happy and I wanted to keep my family up to speed with all my happenings. They saw my struggle and my grind, and I wanted them to see that this was finally coming together."