By: Sheila Foran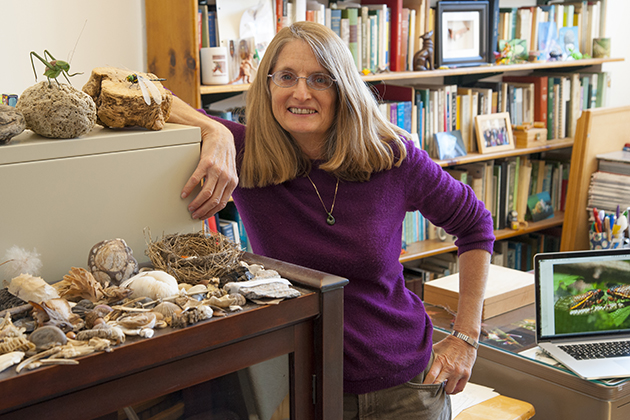 A paper co-authored by ecology and evolutionary biology professor Chris Simon, two UConn research associates, and other colleagues, offers genetic proof that three common species of cicada, although each has 13- and 17-year life cycles and each is found in eastern, middle, and western geographic regions, evolved independently and at different times from each other.
The paper, "Independent divergence of 13- and 17- year life cycles among three periodical cicada lineages," was published in the March 18 issue of the Proceedings of the National Academy of Sciences (PNAS).
The research presented indicates the presence of a common genetic basis for the three species groups of periodical cicadas (Decim, Cassini, Decula) – all members of the genus Magicicada – but it also shows there has been considerable genetic divergence leading to separate 13- and 17-year populations among the species despite the fact that each group exhibits similar phylogeographic patterning.
"Originally it was thought that the three different species groups must have developed simultaneously," says Simon, "because members of all three species groups emerge together every 13 or 17 years in multiple broods (or year-classes) located throughout the U.S., east of the Great Plains. The three species groups have pretty much the same geographic distribution, and they do everything together. But in our lab we were able to determine that the 13- versus 17-year Decim DNA divergence was much deeper than the 13- versus 17-year Cassini or Decula divergence, so I knew they hadn't developed at the same time as the others."
Working with colleagues in Japan, the UConn researchers looked at DNA from the 30 years of samples represented in frozen collections at UConn. They did geographic sampling of all three species, and when they compared them using nuclear and mitochondrial DNA markers they discovered that the three species groups had first diverged about 3.9 million years ago.
Initially, the Decim group diverged from the ancestor of Cassini and Decula, and then Cassini and Decula separated into different species groups about 2.5 million years ago. The mitochondrial gene genealogy shows further divergence associated with geographic regions and, partly, with life cycles.
The paper further reports that all three species groups experienced at least one episode of life cycle divergence since the last glacial maximum – the end of the ice ages – some 20,000 years ago.
"In the Decim species, the 13-year Decim in the southern region – roughly North Carolina, South Carolina, Georgia, Alabama, Mississippi, Louisiana, Tennessee, and Arkansas – actually survived as a separate group during the last ice age," Simon says. "The comparative DNA divergences tell us that the 13-year Decim formed earlier than the 13-year Cassini and the 13-year Decula."