By: Stephanie Reitz
The halls of the state Capitol complex were awash in Husky blue on Monday, as scores of UConn students, their research advisers, alumni, corporate leaders, and others gathered to voice their support for the Next Generation Connecticut proposal and urge lawmakers to approve it.
The proposal (#NextGenCT) is a multi-faceted $1.5 billion initiative to build Connecticut's economic future and job creation prospects through strategic investments in science, technology, engineering, and math disciplines (STEM) at the University of Connecticut.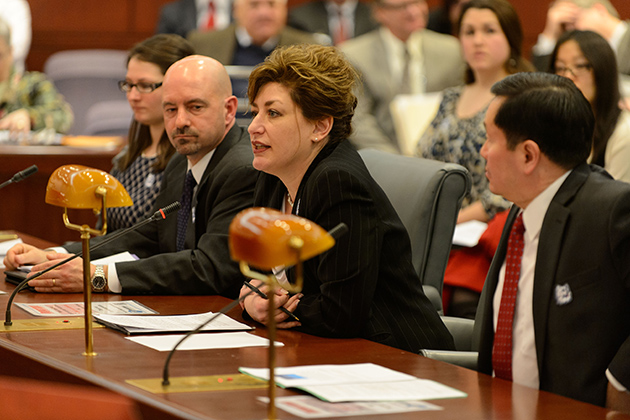 Gov. Dannel P. Malloy, UConn President Susan Herbst, state Senate President Pro Tempore Donald Williams, and others are urging the General Assembly to adopt the plan during its current session, which included a hearing Monday in which Herbst and Provost Mun Choi testified before the legislature's committee on finance, revenue, and bonding.
Several UConn students also testified at the hearing in person or submitted written statements for lawmakers' consideration, and joined a large crowd of UConn supporters for a news conference Monday in the Capitol's Legislative Office Building to share their support for the initiative.
"We are confident this plan will benefit every UConn student regardless of their major," said Michael Daniels, external affairs chairman of UConn's Undergraduate Student Government, which sponsored the news conference. "Adding new faculty through this initiative will help continue to reduce the student-faculty ratio, which will help UConn rise in the national rankings of public universities, joining schools like Berkeley, Michigan, and Virginia near the top."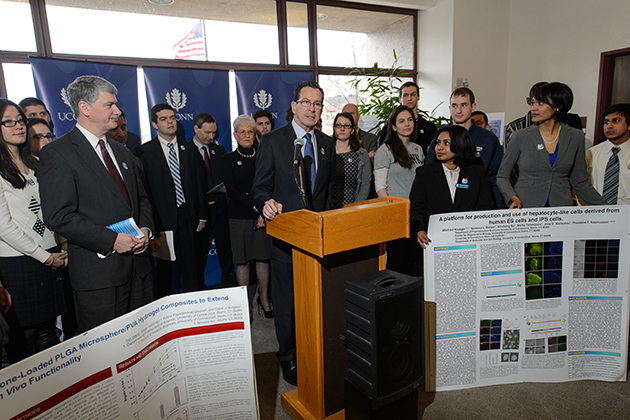 The news conference also included remarks from Malloy, Williams, Mansfield state Rep. Gregg Haddad '89 (CLAS), student Monica Smith '14 (ENG), and Flemming Tinker, president of Durham-based Aperture Optical Sciences Inc., one of many high-tech startup businesses whose owners support the NextGen initiative based on its potential to build the economy and provide a high-skilled, homegrown workforce.
College of Liberal Arts and Sciences Dean Jeremy Teitelbaum, School of Engineering Interim Dean Kazem Kazerounian, and many others also testified Monday before the legislature's finance committee, which is considering whether to endorse a bill for the funding portion of the NextGen proposal.
"

This is not a plan that's picking winners or losers. It is a victory for everyone in Connecticut.

"
Herbst, Choi, the deans, the students, business owners, and others emphasized that the initiative is not only about building UConn's strengths. In the broader sense, it's about using those strengths as a tool for Connecticut's overall economic development, job creation, and business innovation.
"It is now Connecticut's time to act. We want to catch up to great states and leap ahead in key areas like genomics, materials science, cognitive neuroscience, marine science, and digital media," Herbst told the lawmakers Monday. "Next Generation Connecticut will make that happen, and this initiative will finally enable us to reach the top. Connecticut deserves to have a great top public research university that leads scientific discovery."