By: Kenneth Best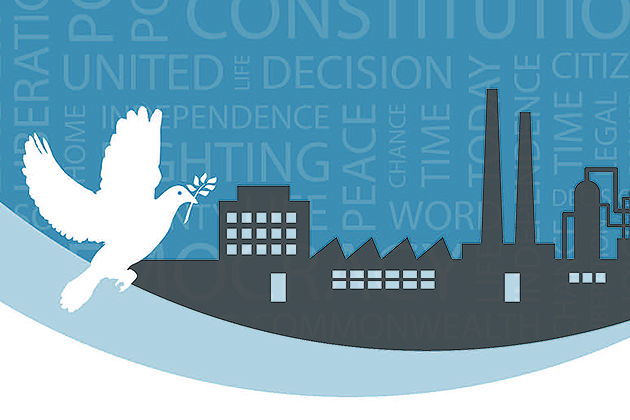 Headlines about human rights violations around the world can be found almost every day in news reports, most often connected to the actions of governments acting against their own citizens. However, human rights violations can also occur as the result of businesses and corporations acting without concern for the effect of their business practices on the communities in which they operate, the people they employ, or the environment.
An international discussion about business responsibility and human rights began in 2011 when the United Nations Human Rights Council adopted the "Guiding Principles for Business and Human Rights," which was the focus of U.N.'s first annual Forum on Business and Human Rights in Geneva last year. The discussion will continue this week at the Thomas J. Dodd Research Center at the University of Connecticut, when leading experts and officials from Connecticut, the United States government, the United Nations, and the business community will meet.
Activities will begin on Thursday, Feb. 28, when the author of the "Guiding Principles," John G. Ruggie of the Kennedy School of Government at Harvard, presents the 19th Raymond and Beverly Sackler Distinguished Lecture at 5 p.m. in the Konover Auditorium of the Dodd Research Center. On Friday, March 1, a closed roundtable forum will take place where experts and officials will begin to address how to implement what are known as the "Ruggie Principles."
An internationally renowned human rights scholar, Ruggie served as the U.N. Secretary-General's Special Representative for Business and Human Rights while developing the three core points of the Guiding Principles:
The state duty to protect against human rights abuses by third parties, including business;
Corporate responsibility to respect human rights; and
Greater access by victims to effective remedy, both judicial and non-judicial.
"In a nutshell, the 'Guiding Principles' prescribe paths for strengthening and better aligning public governance with social compliance mechanisms and corporate governance in relation to business and human rights," Ruggie said in Geneva last year. "They aim to generate a mutually reinforcing dynamic that produces cumulative change."
Shareen Hertel, associate professor of political science in the College of Liberal Arts and Sciences who holds a joint appointment with UConn's Human Rights Institute, says that Ruggie worked to develop a set of guidelines that would move businesses from purely voluntary corporate social responsibility conduct to one that brought together human rights standards and accountability with business practice.
"It's more robust than corporate social responsibility," says Hertel. "He didn't want to promulgate some big U.N. standard to transform international law. He wanted to use international law that exists more effectively."
Adds Robert Bird, Northeast Utilities Chair in Business Ethics and associate professor of legal studies in the School of Business: "John Ruggie's effort takes a new path. It focuses on the collaborative rather than the adversarial. His principles were developed in consultation with business and their lawyers. With that adaptation and participation in the process, you increase the likelihood these organizations will comply with his principles."
From the infamous Triangle Shirtwaist Factory fire in New York City in 1911 – when 146 garment workers died in a fire when they could not escape because they were locked in the factory – to the start of the trial this week over the 2010 BP Deepwater Horizon oil spill in the Gulf of Mexico that caused significant environmental damage and economic losses to local residents, there are dozens of examples where corporations have ignored human rights concerns in the conduct of their business.
"The challenge is to integrate the Ruggie Principles within the confines of organizations," says Bird. "What you are trying to embed is respect for human rights within the hall of organizations. It requires a commitment by corporations and their executives to change the culture of their workforce to treat human rights as a priority."