By: Christine Buckley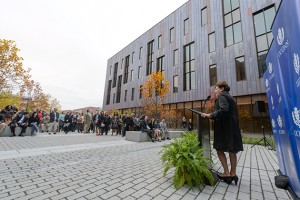 More than 100 people gathered Wednesday in the sustainably-landscaped courtyard of UConn's newest building, Oak Hall, to dedicate the building and recognize those who have worked toward its completion.
"After many years in Monteith and Arjona, the CLAS faculty housed here are particularly deserving of this brand new building," said UConn President Susan Herbst. "Oak Hall will house the discoveries that are so vital to our mission as a public research institution."
Beginning this semester, the building is now home to the College of Liberal Arts and Sciences departments of economics; journalism; languages, cultures and literatures; linguistics; and political science. The building, which has been constructed under the 21st Century UConn/UConn 2000 program, houses faculty offices, meeting space and classrooms, including a 200-seat auditorium.
Calling the building a "beautiful space," Dean Jeremy Teitelbaum welcomed faculty members to their new home and charged them with living up to its potential.
"May this space inspire you to build upon your excellent research, scholarship and teaching," he said.
The new, S-shaped building has five wings and is outfitted with high-tech audiovisual capability, including large projection screens and wireless-equipped computers in every classroom.
Monica Mula, a junior journalism and economics major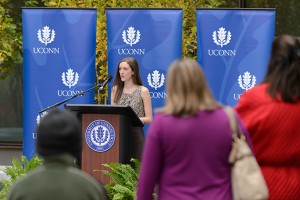 and an anchor at the student television station UCTV, said the technological advances create an energizing learning environment.
"Oak Hall reflects the quality of education students are receiving within its walls," she told the crowd. "The building is as capable and talented as my professors inside it."
Silvester Brantley, a senior Spanish and political science major from Hamden, Conn., joked that among other drawbacks, Arjona and Monteith had window treatments that were "unworkable," elevators that didn't work – let alone talk to you like the ones in Oak Hall – and dusty, dirty floors to sit on instead of the beautiful bamboo chairs and ottomans in the new building.
But after learning Spanish and Arabic at UConn and traveling for study abroad programs in Spain and Egypt, he said his memories transcend buildings.
"My greatest memories from UConn will remain in Arjona's past," he admitted. "But I am thoroughly enjoying this new space."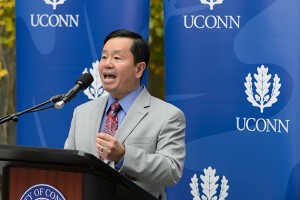 The building also boasts such sustainable energy features as efficient fixtures that will reduce water consumption, as well as energy-efficient lighting, high-performance insulation and abundant natural light.
Interim Provost Mun Choi emphasized the importance of original research being carried out in the humanities and the social sciences.
"These research areas are the fundamental bedrocks on which we build the excellence of a flagship university," he said.