By: Stefanie Dion Jones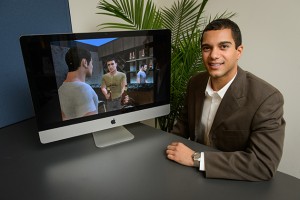 Some parents may be quick to disparage the countless hours their children spend engrossed in video games. Luckily for assistant professor John Christensen, it was a pastime that turned out to be a great career move.
"I was the kind of kid who refused to go outside on a sunny day," says Christensen, who joined UConn's Department of Communication this academic year, as one of the 500 new tenure-track faculty brought on board under the University's four-year hiring plan. "I would stay inside playing video games for hours on end."
That enthusiasm paid off. Today, Christensen is merging his technological expertise in the cutting-edge field of digital media with his research interests in health intervention. The interactive video games he designs center on helping to persuade individuals to make healthy decisions.
It was while Christensen was doing a postdoctoral fellowship at University of Pennsylvania this past year that he saw an announcement on a higher ed listserv about UConn's hiring plan – an initiative that includes a focus on digital media. Having previously considered UConn for graduate school, Christensen was also aware of the health intervention studies ongoing at the University's Center for Health Intervention and Prevention (CHIP).
"I've had my eye on UConn for a long time," says Christensen, now a CHIP research affiliate as well. "It was just the perfect fit for me."
Real-World Lessons in the Virtual World
Christensen's current projects are focused in part on two interactive video games, one of which is designed to prevent risky alcohol, drug, and sexual behavior. In these video games, Christensen brings to life a surprisingly authentic virtual world – a computer-generated nightclub, for example – where the player interacts with artificially intelligent characters, perhaps engaging in conversation with a character or asking them to dance.
The game's intelligent virtual characters, known to researchers as conversational agents, are meanwhile gradually gathering information about the player's actions and choices in order to persuade the player to make safe decisions.
"The idea is that, hopefully over a long interaction, these virtual characters can learn enough about who you are as a person to kind of tailor the intervention experience on the fly," Christensen explains.
One game, for instance, is designed for young gay men, 18 to 24 years old. "This group has challenges when they go to college – for example, alcohol, drug use, and risky sexual behavior," Christensen says.