By: Stefanie Dion Jones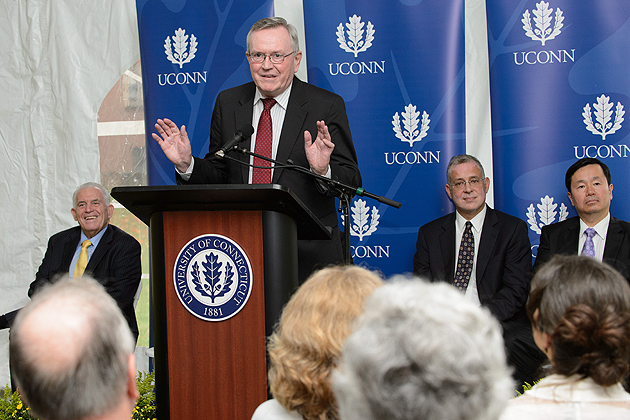 ---
University leaders, including UConn President Susan Herbst, Interim Provost Mun Choi, and numerous Board of Trustees members, along with a crowd of past and present members of the University community, were among those gathered in Storrs on Wednesday at a ceremony celebrating the official designation of the Philip E. Austin Building.
Formerly known as the College of Liberal Arts and Sciences (CLAS) Building, the Philip E. Austin Building honors the leadership of former UConn President Philip Austin, who served as President from October 1996 to September 2007, during which time the University experienced a physical transformation and strengthened its reputation for academic excellence. Austin oversaw the $1 billion UConn 2000 renovation program, and led the start of the $1.3 billion 21st Century UConn program that followed.
"After 11 years of being President – and then another one as Interim President – the University was better by every measure than it had been before," Herbst said during the event. "Phil Austin helped UConn to become what we are today: one of the best universities in the nation."
Chairman of the Board of Trustees Lawrence McHugh also thanked Austin for his years of leadership, and for his guidance in driving the transformative UConn 2000 and 21st Century UConn programs, calling him one of the key figures in the life of the University.
"People come and go at universities," McHugh said. "But there are some individuals, some leaders, who make such an impact in the time that they are there that they change the course of that institution. For UConn, Phil is one of those people."