By: Stefanie Dion Jones
In this second of a four-part special series, one of UConn Today's journalists reports on the experiences of a recent UConn graduate whom she met when she traveled to South Africa this past summer.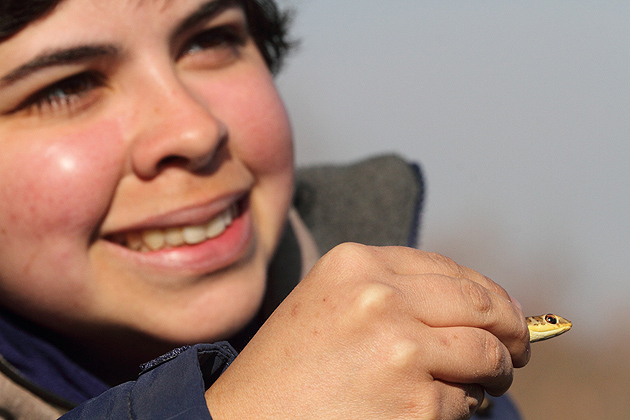 Puerto Rico native Aileen Leask '12 (CLAS), with her petite stature, sunny personality, and luminous smile, may at first glance seem out of her element in the dangerous and unforgiving habitat of the South African bush.
Yet she now lives at Entabeni Game Reserve in South Africa, where she is undergoing training to become a licensed nature guide. Enrolling this past July in an intensive, hands-on, six-month course at the reserve, Leask has been doing everything from tracking lions on foot and learning how to handle a rifle to getting firsthand experience in wilderness survival.
"To be honest, I'm a city girl," she says. "I'm afraid of spiders and insects and cockroaches. I can't stand them. But I'm here … to learn how to respect them and to understand those kinds of animals – because there's really nothing to be afraid of for the most part."
Arriving at UConn five years ago, Leask, then 18, knew that she wanted to work with wildlife. She held fond memories of childhood field trips with her school back home – hiking in the rainforest of Puerto Rico and taking daylong outings to the small, uninhabited islands off its coast, rich with wildlife.
In her freshman year, she was recruited to live in UConn's Global House Learning Community by a professor who was serving as director. That professor was Morty Ortega, an associate professor in the College of Agriculture and Natural Resources.
Leask eventually mentioned to him her interest in wildlife. "All in one day, he showed me what kind of schedule I was going to have," she says. "He told me there was an Africa ecology class that he teaches and that he could take me to Africa to learn about wildlife. He showed me volunteer opportunities that I could be doing at that moment. Immediately, it opened up doors to what I could be expecting. That was such a positive, positive experience for me."