By: Sheila Foran
Of all the plants in the ecology and evolutionary biology department (CLAS) greenhouse, there's one that has particular significance for UConn botanist Matt Opel.
It's Tylecodon opelii, a tiny plant about 10 mm in diameter that was discovered by Opel during a trip to South Africa in 2000 while he was still a UConn graduate student. After years of study by botanists with expertise in the genus Tylecodon, it has been verified that Opel was the first to identify the plant as a possible new species. Therefore, this mighty mite now officially bears the name, opelii.
Its native habitat is an isolated region of hilly terrain covered in quartz gravel in the northwest corner of South Africa's Western Cape Province. A hardy, summer-deciduous, dwarf geophyte (a kind of plant having the capability to survive in arid environments by utilizing an underground storage system to retain water), it is so well camouflaged that it's barely visible in the rugged landscape.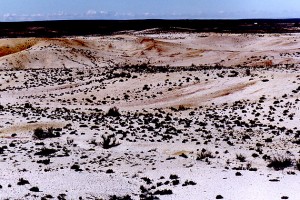 Opel was drawn to this semi-desert region that stretches along a coastal strip of southwestern Namibia and South Africa, and is known as the Succulent Karoo, because of his interest in Conophytums (also known as stone plants) and other succulents. The area is home to about one-third of the world's approximately 10,000 succulent species, including about 630 species of geophytes.
"I was in an area that I knew would be full of interesting plants" Opel says, "but I wasn't expecting to find something that hadn't been seen before. When I first saw these plants I recognized them as being from the genus Tylecodon, but there were some unusual characteristics that caught my eye."